Business Litigation Attorney in Detroit, Michigan
Protect Your Business from Legal Disputes
Hire a Local CPA and Business Litigation Attorney in Detroit, MI
Go above and beyond with your legal representation by hiring a licensed attorney and certified public accountant (CPA). With financial and legal representation, you'll have the tools you need to succeed. I am a business attorney and CPA with more than 30 years of experience in Grosse Pointe Farms, Michigan. I also hold an MBA in finance. I will seek to help you create your next business transaction, work with you to resolve legal disputes, create a financial plan, and understand contracts related to your business.
I am the bow-tie guy ready to take on your legal matters. Call today to set up your consultation.
Assistance with All Your Business Matters
Every entrepreneur should have a reliable business attorney and CPA.
I am ready to help you create your next business transaction and assist you with your business' legal and financial matters.
To help you with your business, I seek to...
Work on your business plan.

Represent you during litigation.

Change deals to transactions

Walk you through general tax matters because they affect your business and personal income tax return

Write and review contracts.

Advise your international trade deals.

Walk you through general tax matters.

Assist you with estate planning
Schedule an appointment with me today by calling.
How to Protect Your Business from Costly Litigation
Consult My Business Law Firm for Guidance in Gross Pointe Farms, MI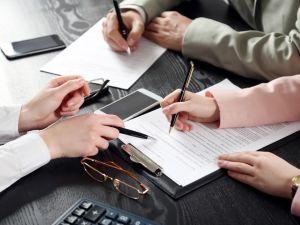 Your business is your livelihood. You can't afford to let unforeseen legal issues threaten to reverse all of your hard work. In any business venture, legal troubles are bound to happen. But there are ways to protect yourself and your business from potential lawsuits.
At Robert L. Hindelang, P.C., my business law firm has helped countless clients avoid litigation concerns before they ever arise. As your dedicated attorney, I aim to help you:
Incorporate your business

Get insurance protection

Draft legal contracts when needed

Keep accurate records

Write and implement company policies and procedures

Remain ethical, honest, and moral

Provide exceptional customer service
Trust an experienced and unbiased attorney to steer your company away from legal troubles. Need help protecting your business from litigation and lawsuits? Contact my business law firm today to learn how I can help in Gross Pointe Farms and Detroit, MI.